Society has a way of placing a negative stigma on Black fathers, but we here at AURN know that that's far from the truth–Black father's are goated!
According to a 2013 study conducted in Atlanta by the Center for Disease Control and Prevention, "Black fathers (70%) were most likely to have bathed, dressed, diapered, or helped their children use the toilet every day compared with white (60%) and Hispanic fathers (45%)."
And with that being said, it's time to give our Black dads the credit they deserve. With Father's Day just days away, we wanted to take the time to show some appreciation for some of our favorite celebrity dads, who effortlessly embrace the joys of fatherhood.
1. Barack Obama
We're certain that serving as the 44th President and raising two daughters was no easy feat, but President Obama handled it with grace. As the father of two beautiful daughters, Sasha and Malia Obama, he never hindered them from living their truth, despite his immense responsibilities and title.
2. Jay-Z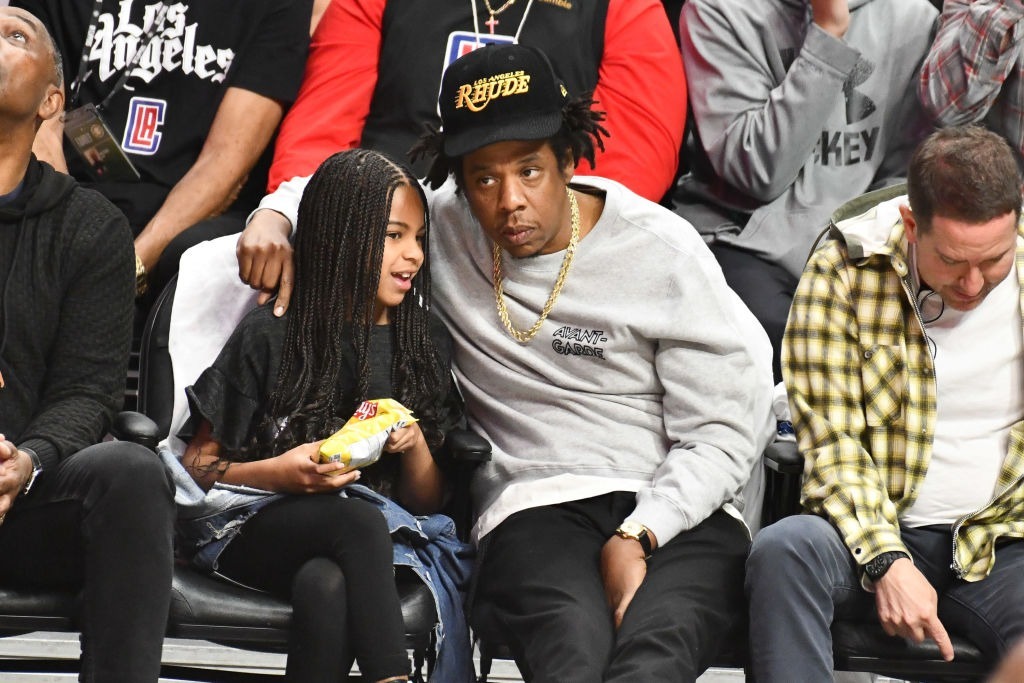 Rapper, producer, and entrepreneur Jay-Z is a man of many talents, and he also holds the title of dad. Alongside his wife Beyoncé, they are proud parents to three children – 11-year-old Blue Ivy and five-year-old twins, Sir and Rumi. Despite being a busy man, Jay-Z prioritizes his children and always makes time for them. For instance, he can be seen sitting courtside with Blue at basketball games, showing his commitment to being an engaged father.
3. Will Smith
Father of three, Will Smith shares children Willow and Jaden with his current wife, Jada Pinkett Smith, and Trey Smith with his ex-wife, Sheree Zampino. It's evident how proud of a father Will is to have three wonderful kids. Whether it's supporting Trey's acting career, Willow's music, or Jaden's philanthropic efforts, he never hesitates to showcase his children's achievements.
4. Lebron James
A legend in his own right and arguably one of the most captivating basketball players to watch, LeBron James is not only a superstar on the court but also a devoted father to his three children: Bronny, Bryce, and Zhuri. Both Bronny and Bryce appear to be following in their father's footsteps as talented basketball players. On the other hand, little Zhuri has yet to develop a passion for basketball, but LeBron has shared on Instagram that she loves to dance.
5. Sean "Diddy" Combs
Another man of many talents, Diddy is not only a rapper, actor, record producer, and executive, but also an exceptional father. With a total of seven children, including one adopted child, Diddy wholeheartedly embraces his role as a father. Diddy adopted Quincy Brown when he was three years old, after developing a relationship with his mother, Kim Porter. Justin Combs is Diddy's first born child with fashion designer Misa Hylton. Diddy and Kim went on to have three more children together: Christian Combs and twins, D'Lila and Jessie. In December 2022, Diddy welcomed his newest daughter, Love Sean Combs, into the family. It's evident that Diddy has a natural talent for fatherhood.
6. Iman Shumpert
If we're discussing a picture-perfect family, we have to include Iman Shumpert and his two beautiful baby girls with his wife, Teyana Taylor. Stepping away from the world of basketball, he embraces the role of being a daddy to Junie, 7, and Rue, 2. He proudly showcases his baby girls on social media and has expressed that he considers himself a dedicated father to his daughters; he has labeled himself as a "girl dad fasho."
7. Bow Wow
A #girldad at heart, Bow Wow and his 12-year-old daughter, Shai, are truly inseparable, not to mention the striking resemblance she has to him! The rapper, known for his hit song 'Let Me Hold You,' also welcomed his son, Stone Kamin, into the world in 2020. Bow Wow expressed his gratitude for having his son in his life, sharing on social media, 'It's such a blessing to have him in my life."
8. Stephen Curry
A nine-time NBA All-Star and a dedicated family man, Steph Curry has openly expressed his love for fatherhood. Together with his wife Ayesha Curry, they have three beautiful children: Riley, Ryan, and Canon. When it comes to being a father, Curry passionately shares, "You learn something from them every single day. They give you a reason to wake up in the morning, regardless of whether work is going well or not. Your biggest responsibility, obviously, is being a parent, and it's just so much fun every single day when they change so fast and you're trying to keep up. You get to share so many experiences with them, and I'm enjoying every minute of it."