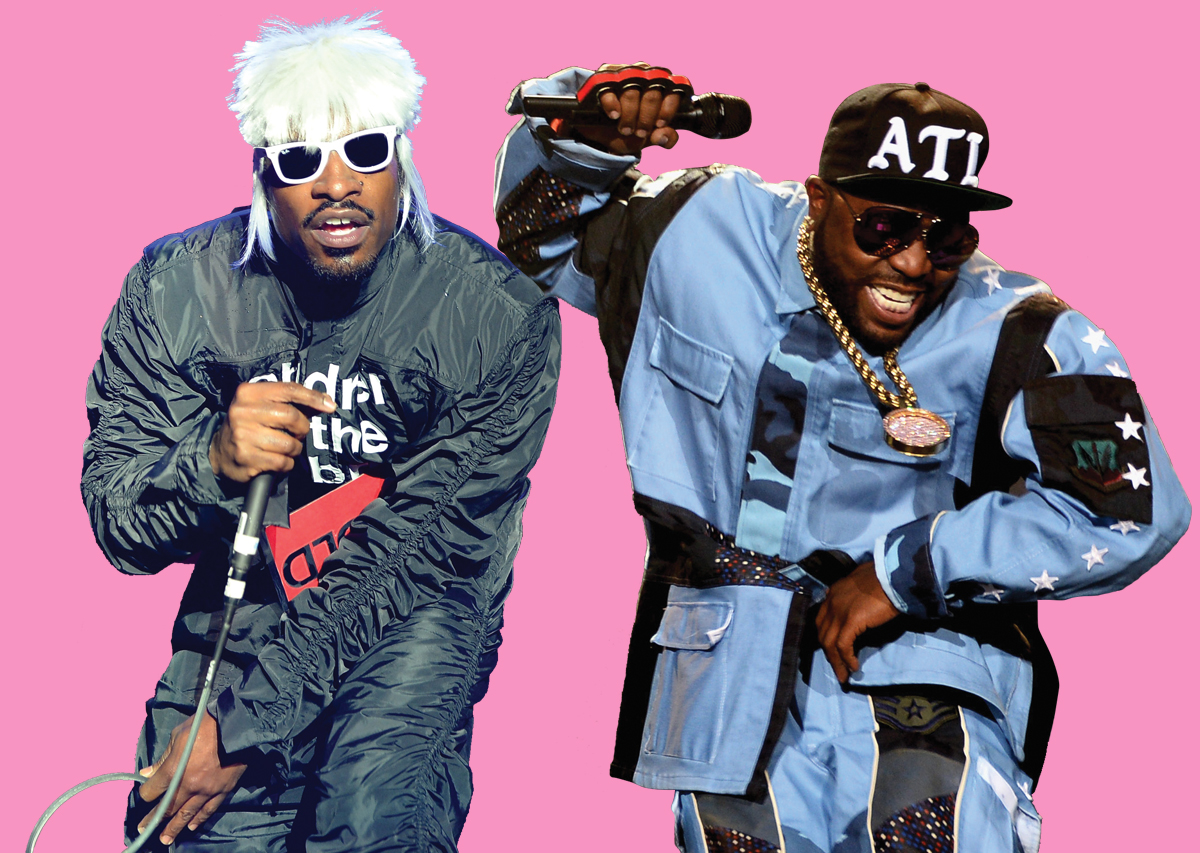 Twenty-five years ago, Outkast created a perfect hip hop composition with the release of Aquemini. The album represents how two opposite worlds, in personality, can create genius art in unison.
First Roots
Andre "3000" Benjamin and Antwan "Big Boi" Patton met in a neighborhood mall in Atlanta, Georgia, at age sixteen. They formed an instant friendship. After discovering their shared love for rhyming, the two became a rap duo, showcasing their skills everywhere from local talent shows to high school cafeteria lunch tables. Fate shined their way when they met the soon-to-be legendary production team, Organized Noize, who had recently worked with R&B group TLC. The meeting led to an introduction to L.A. Reid, CEO of LaFace Records. After Reid put the young rappers through artist development, he allowed the duo to debut on the album A LaFace Family Christmas. At first, Andre and Big Boi resisted making a Christmas record—until they figured out how to put their twist on it. Hence, "Player's Ball" was born.
"Player's Ball" opened doors for a young Outkast as they rhymed about lowriding in the South with a video directed by a young Sean "Puff" Combs. The song served as a lead single for the debut album Southernplayalisticadillacmuzik, where Andre and Big Boi exchange rhymes as rap twins born from the same mic. Songs such as "Ain't No Thang", the album's title track, and the inspirational "Git Up, Git Out" earned them commercial and almost critical success.
All Love, All Disrespect
In 1995, Outkast's cold reception at the Source Awards put a proverbial battery in their backs. At the event, the duo received "boos" from the audience once it was announced that they had won the award for Best New Artist. The experience became inspiration for a second album, and their acceptance speech was immortalized when a frustrated Andre 3000 said, "It's like this tho, THE SOUTH GOT SOMETHING TO SAY!"
Outkast, feeling the effects from those infamous boo's and "closed-minded folks", named their sophomore album ATLiens. This second effort showed their musical growth and visually illustrated the differences in their personalities. Gone were the days of matching Atlanta Braves jerseys; in their music video for "Elevators", Andre wears a turban while Big Boi sports full pimp gear in a suit and tie. Songs like "Wheelz of Steel", "Jazzy Belle", and "Babylon" demonstrated the duo departing from their shared rhyme style and separately evolving into their own introspective raps.
The Imperfect Perfect Time
With two masterful works in their catalog, fans wondered if the group had a future. Rumors of a breakup began to circulate due to: 1) Andre's ultra-rainbow attire and 2) history has shown that the lifespan of the average hip hop group is short. So, when Aquemini was announced as the next Outkast album, fans were excited but still needed clarification on what to expect—until the lead single.
As a lead single, the music video for "Rosa Parks" was a perfect reintroduction to who Outkast as artists had become. Where before the two MCs might've been ATLiens to the world, they now looked foreign to each other. There was Andre 3000, shirtless, dressed in football pads and fury, multi-colored pants, rapping about being stimulated by gypsies. Big Boi looked like a D-Boy fresh from Freaknik, rhyming about doing donuts outside a strip club. On the surface, the two looked planets apart yet rapped as one, which, according to Andre, would be the album's theme. "Aquemini was like a blending of both of the signs, the Aquarius and the Gemini" said Andre, "Like letting people know that, like two totally different worlds can come together and make this music."
The Rhythm and Rhyme
The Aquemini album starts off preparing you for a tripped-out ride twelve seconds into the first track, "Hold On, Be Strong." The repeated whisper of the title with haunting background guitar, strings, and bell sounds, act as verbal seatbelts for a psychedelic version of hip hop that had never existed. First was an unimaginable team-up. Wu-Tang Clan's Raekwon the chef appears on "Skew It on The Bar-B", blending his Staten Island, crack-recipe rhymes with the two Georgia boys who a few years prior received jeers in Raekwon's hometown.
The growth of Outkast shines in the musical production of Aquemini. In the past, Andre and Big Boi's rhymes relied heavily on the sounds created by Organized Noize. But for this album, Outkast produced most of their own beats. Songs like "Slump", a dope-boy country jam, and "Liberation", a classic protest record, represented both artists as different voices with the same vision.
The elevation of Big Boi and Andre's MC'ism is flawless in "Da Art of Storytellin' Pt.1." The duo's storytelling breathes so much life into the characters mentioned in their verses that it's hard not to feel a moment of guilt for Suzy Skrew or an emotional R.I.P. for Sasha Thumper.
Da Art of Perfection
Aquemini the album accomplished platinum status within a month of its release and double platinum two months afterward. Yet, the full-circle moment was when The Source magazine, whose award show left a bitter taste with Outkast years before, gave the group its most sacred award, a five-mic classic rating for Aquemini.
Outkast, as a group, is legend, but the artistic work of Aquemini makes them the greatest duo in hip hop history. Never before—and so far, never again—had extreme opposing personalities created and perfected a musical blend of lyricism and production delivered as one. From the "smoking word" genius of "SpottieOttieDopealiisciious" to the rockstar performance of "Chonkyfire", each song is as innovative as it is true to its craft. Andre and Big Boi took an outer-space approach to the album's development, and the result was a timeless body of work.
Aquemini is a musical masterpiece that pushed hip hop beyond its comfort zone and is responsible for the genre's growth from the Bronx to Atlanta to worldwide.