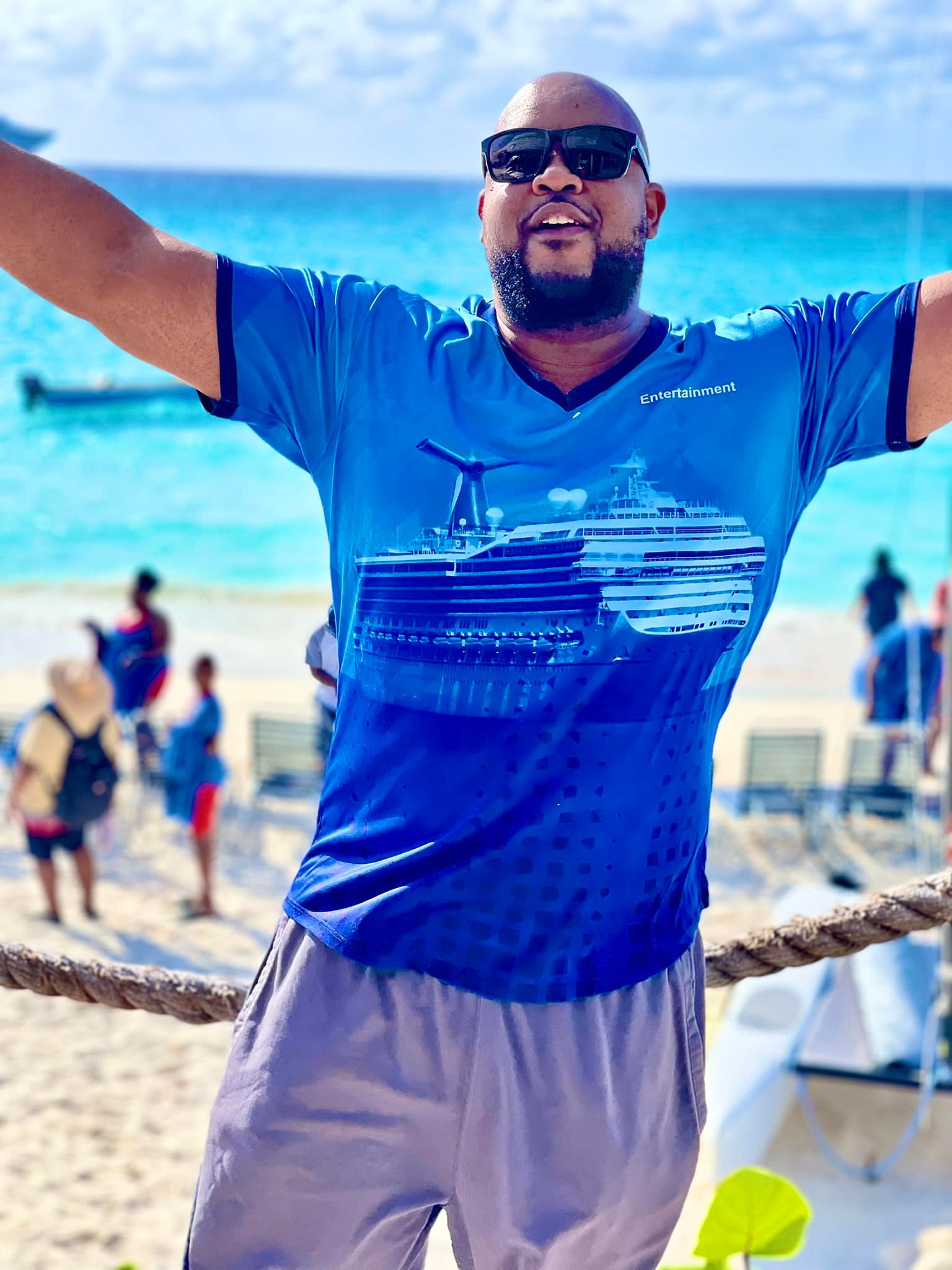 The 50th Anniversary of Hip-Hop celebration has been in full swing all year. The celebration is a testament to how impactful hip-hop has been for decades, and part of that global reach includes the vacation industry. That's where Jeff "DJ Skoot" Hedgemon comes in. Hedgemon is a millennial who grew up in Baton Rouge La, surrounded by music. His father worked in radio broadcasting in sales and promotions, but introduced him to turntables and the concept of spinning records. Then, Hedgemon fatefully watched the cult classic, Juice, and knew from there that he wanted to be a DJ. That is how DJ Skoot was born.
Eventually, after graduating from Alabama A&M University, DJ Skoot ended up working for Carnival Cruise Lines, curating the vibes in a variety of ships such as Carnival Dream, Carnival Legend, Carnival Vista, Carnival Horizon, Carnival Liberty, Carnival Pride and more. Let's face it, when people tend to think of music at resorts and on cruise ships, they think it's going to be corny. However, DJ Skoot has taken his love of hip-hop and applied it to the changing demographics of vacationers on cruise ships looking for a good time.
In celebration of hip-hop's semi centennial, DJ Skoot curated a playlist that features some of hip-hop's brightest lights like Lil' Kim, Craig, Mack, Biggie and more. He has also taken time out of his hectic sailing schedule to chat with AURN about bringing Hip-Hop 40 to the vacation industry, and redefining entertainment on cruise ships.
AURN: You credit your father and the movie Juice with getting you into DJ culture. How did both impact you growing up? 
DJ Skoot: Watching, and instantly falling in love with the movie Juice was the icing on the cake stemming from an idea of being in an atmosphere that I've already been engulfed in. My father, being in the radio broadcasting business, included me in a lot of radio production and events. From big concert events, to small promotional appearances, I was always thrilled to tag along. Radio is all about communication and engaging with the audience. So, most importantly, verbal communication skills were established at a very young age. I can also credit my mother who is now a retired speech pathologist. Growing up, she also helped me with various developmental learning activities of communication. All of that has been a big part of my recipe for success.
AURN: How did you end up connected with Carnival as a DJ and had you ever been on cruises for fun prior to working on a ship? If so, how does it feel different now that you're DJing?
DJ Skoot: Most importantly, I give full credit to my sister. She is an extremely talented singer/performer, who, at the time, was auditioning for various companies. Her last audition in particular, was with Carnival Cruise Line. Her audition was so phenomenal, the casting agents hired her on the spot. Not only did they do that, they also filmed her on Cruise TV. Cruise TV is a TV channel that gives guests on board an inside look on fun facts and into the team's life. A segment filmed her throughout her hiring process. A year later, the family and I were invited to watch her perform. I had never taken a cruise before in my life. I was so in awe with the cruise lifestyle, I knew for certain I had to join. A few weeks went by, she called me and said that Carnival is looking for more DJs to join the team, then followed by a link to apply. The rest is history.
AURN: Is there a difference between how you approach your playlists when you're curating music for a vacation setting or a cruise ship, vs any other event?
DJ Skoot: I find this part being the most fun of all. The difference is that I can relate to that first experience of day one on board the cruise ship, better known as, embarkation day. I want to recreate, for everyone, the same euphoric moment that I had. From the gangway onto the main lobby, continuing with the sail-away party, and so on, and so forth. That very first day is what I think about that when creating playlists. I think about having a nice tropical drink in my hand, kicking back and soaking up the sun – and leaving my worries at the dock so I can say hello to the fun.
AURN: Cruises have changed a lot over the past few years, especially with regard to the type of music you hear on them. How did hip-hop play a role in shifting the musical vibes on a ship? I was surprised that on my last cruise in August, I didn't just hear your typical "Who Let the Dogs Out" and "Macarena." They really went in.
DJ Skoot: I believe that cruising has changed dramatically within the past 10 years. I see more people from younger generations becoming avid cruisers all the time. Music has to change to cater to new demographics, and to move with the times.
AURN: What's your approach to bringing the Hip-Hop 50 celebration to the cruise industry and why do you think Carnival is so open to vibing with the celebration of a genre that can sometimes be controversial?
DJ Skoot: At one point, at its early stage, even rock 'n' roll was controversial. The party and good vibe, hip-hop, and R & B that I play reflects not only with Carnival's fun values, but with the guests as well. My approach is something as cool as taking you back to that special high school dance or even a good kickback vibe with friends and family, and just overall good fun.
AURN: Tell me about the HH50 playlist you created and what the reception has been thus far.
DJ Skoot: The playlist celebrating 50 years of hip-hop really captures the essence of fun, storytelling, and culture. I've enjoyed hearing the positive feedback from it, online and face-to-face. It has inspired me to make more playlists in the future that people can enjoy. In the playlist, you can also hear the transition of time with the artistry, lyrics, and production. You can hear the creativity, feel the influence, and embrace all the good vibes.
AURN: Finally, what's next for you? Any exciting sailings coming up?
DJ Skoot: My next assignment starts January 28, 2024. I'm sharing my talents again on board Carnival Luminosa in Brisbane, Australia. This is going to be really exciting, because not only do I get to be in Australia, but we're also doing a transpacific ocean crossing with destinations in Japan and French Polynesia before arriving in Seattle.